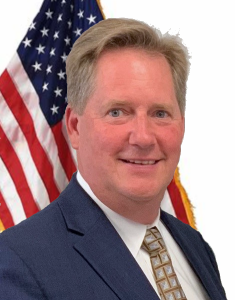 Theodore T. Kusnierz, Jr.
Town Supervisor and
Saratoga County Board of Supervisors Chairman

Theodore T. Kusnierz, Jr. is currently serving in his third term as Chairman of the Saratoga County Board of Supervisors and has represented the Town of Moreau as Supervisor since 2018.
He has served in various capacities in State and local government for over 33 years. Prior to his election as Supervisor, Mr. Kusnierz worked for the NYS Senate as Director of Policy and Operations, Director of the Legislative Commission on Rural Resources, and Chief of Staff and Director of the Senate Standing Committee on Agriculture. During that time, he was also a Councilmember for the Town of Moreau for 16 years.
Mr. Kusnierz presently serves as a member of the Board of Directors on the Saratoga County Water Authority, the Saratoga County Prosperity Partnership, and the Saratoga County Economic Opportunity Council. He has also served as a member of the Hudson-Hoosic Rivers Partnership, the Town of Moreau Local Development Corporation, the Crandall Public Library Strategic 5-year Planning Committee and as a New York Republican State Committee Member.
Mr. Kusnierz is a life-long resident of the Town of Moreau where he attended schools in the South Glens Falls Central School District and graduated from Cornell University. As a small businessman, he and his wife Mary Ellen operate Candy Cane Farm, LLC which is a 300-acre family-run Christmas tree plantation and registered Black Angus Cattle breeding operation where they raised their son Ted and daughter Jacqueline.
###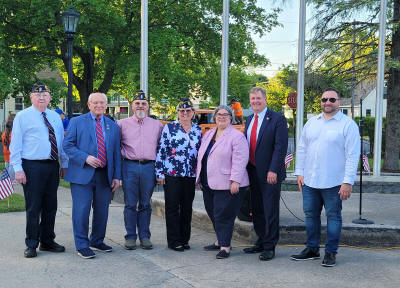 2023 SGF Memorial Day Parade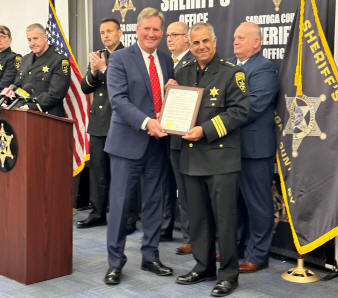 Chairman Kusnierz congratulates Rick Castle for his 33 years with the Saratoga County Sheriff's Department. Castle was recognized and honored with a Proclamation and Walkout Ceremony on
April 21, 2023.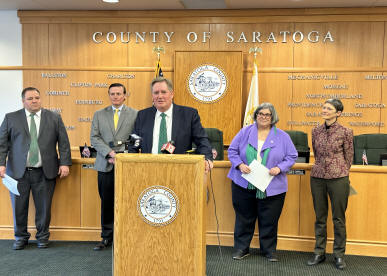 SARATOGA COUNTY EXPANDS
PUBLIC HEALTH SERVICES DEPARTMENT
Click HERE for more information from
the Saratogian
March 17, 2023
###




SARATOGA COUNTY DEPUTIES GET 20-year RETIREMENT PLAN, RAISES
Click HERE to read the Saratogian's article
February 23, 2023
###

KUSNIERZ IS ELECTED
SARATOGA COUNTY CHAIRMAN
FOR THE THIRD YEAR!
- Jana DeCamilla, The Post Star 1/5/2023

###

MOREAU SUPERVISOR

PICKED TO LEAD SARATOGA COUNTY

BOARD OF SUPERVISORS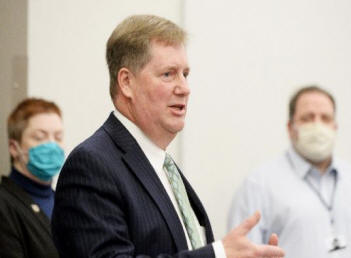 -Shenandoah Briere, The Daily Gazette 1/8/2023
###
Saratoga County Board of Supervisors elects Kusnierz to third term as chair
The Saratogian 1/9/2023
###
SARATOGA COUNTY REPORTS LARGEST WEEKLY WAGE INCREASE NATIONALLY IN 2nd QUARTER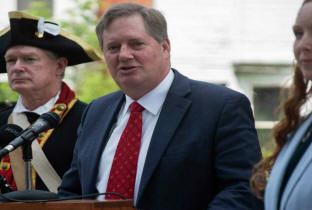 SARATOGA COUNTY BOARD OF SUPERVISORS
CHAIRMAN KUSNIERZ
###

MOREAU IS A PURPLE HEART COMMUNITY!!


Senator Jordan presents Supervisor Kusnierz and the Town of Moreau with a Purple Heart Community Proclamation!
IN THE NEWS
Supervisor Kusnierz & Congressman Tonko
Moreau's Route 9 Sewer Project Pump Station
Site Visit
8/31/2022
Saratoga County COVID Testing Site
Press Conference
12/6/2021
Supervisor Kusnierz receives the
Lorraine Westcott - Friend of Grant Cottage
Memorial Award
Click HERE for details.
********
SARATOGA COUNTY PRESENTS $50K CHECK TO SARATOGA COUNTY FAIR
READ ALL ABOUT IT!


**********

CHAIRMAN KUSNIERZ PRESENTS
ARPA COVID-19 RELIEF CHECKS TO
LOCAL NON-PROFIT ORGANIZATIONS!

CLICK HERE FOR PICTURES!
CLICK HERE TO READ MORE AND
CLICK HERE TO SEE A FULL LIST OF RECIPIENTS
Additional ARPA COVID-19 RELIEF checks presented by Chairman Kusnierz can be seen
here
!


*********

CHAIRMAN KUSNIERZ PRESENTS
SARATOGA COUNTY FIRE DEPARTMENT & EMS AGENCY RECRUITMENT
GRANT FUND AWARD TO
MOREAU EMERGENCY SQUAD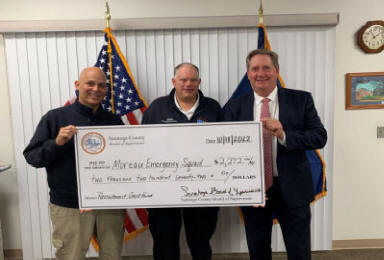 MES Chief Operations Officer Andre M. Delvaux & Executive Director Steve Van Guilder are presented a Saratoga County Fire Department & EMS Agency Recruitment Grant Fund Award by Board of Supervisors Chairman and Town of Moreau Supervisor Theodore T. Kusnierz, Jr.