Mosquito Dunks Available
The Town has suspended the dispensing of free Mosquito Dunks until further notice.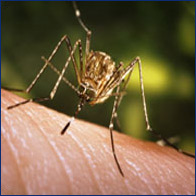 In a continuing effort to control the mosquito population the Town of Moreau is again this year offering, free of charge, to Town of Moreau residents, BTI Dunks. Dunks are a donut shaped tablet of BTI, a bacterial agent that is placed in pooled water. The larvicide is time-released over a 30-day period or more. The Dunks kill mosquitoes and related species larvae. In order for this method to be effective, the residents with mosquito breeding areas on their property must actively participate in the application of the Dunks. It is important to attack the mosquito larvae now before they hatch and become adults.
Dunks and an informational packet may be picked up at the Town of Moreau Town Clerk's Office, Town Hall, 351 Reynolds Road, Moreau 12828-9261 from 8 :00 a.m. to 4:00 p.m., Monday - Friday.