COMMUNITY NEWS & NOTICES
FOR ALL SARATOGA COUNTY NEWS RELEASES
CLICK HERE
********************************************
ARPA Covid-19 Non-Profit Relief Checks presented by
Board of Supervisors Chairman and Town Supervisor
Theodore T. Kusnierz, Jr.

$50,000 presented to the New York State Military Museum and Veterans Research Center
in Saratoga Springs!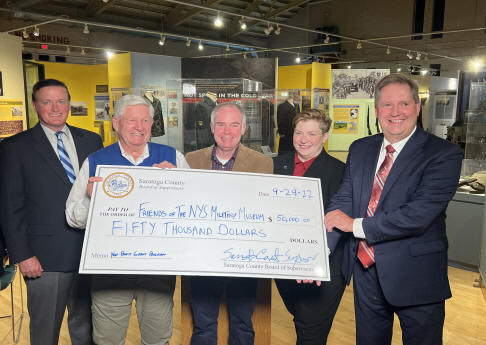 Saratoga County Board of Supervisors Chairman, Theodore T. Kusnierz, Jr.; Saratoga County Board of Supervisors members; Roy McDonald, President of the Friends of the New York State Military Museum; Trustees of the Friends of the New York State Military Museum
*******************************************

CHAIRMAN KUSNIERZ PRESENTS
ARPA COVID-19 RELIEF CHECKS TO
LOCAL NON-PROFIT ORGANIZATIONS!

CLICK HERE FOR PICTURES OF LOCAL RECIPIENTS!


CLICK HERE TO READ MORE AND
CLICK HERE TO SEE A FULL LIST OF RECIPIENTS
*******************************************
SARATOGA COUNTY VETERANS CEREMONY
HONORS SEAMAN FIRST CLASS ROBERT C. SHAW
1/4/1924 - 1/19/2022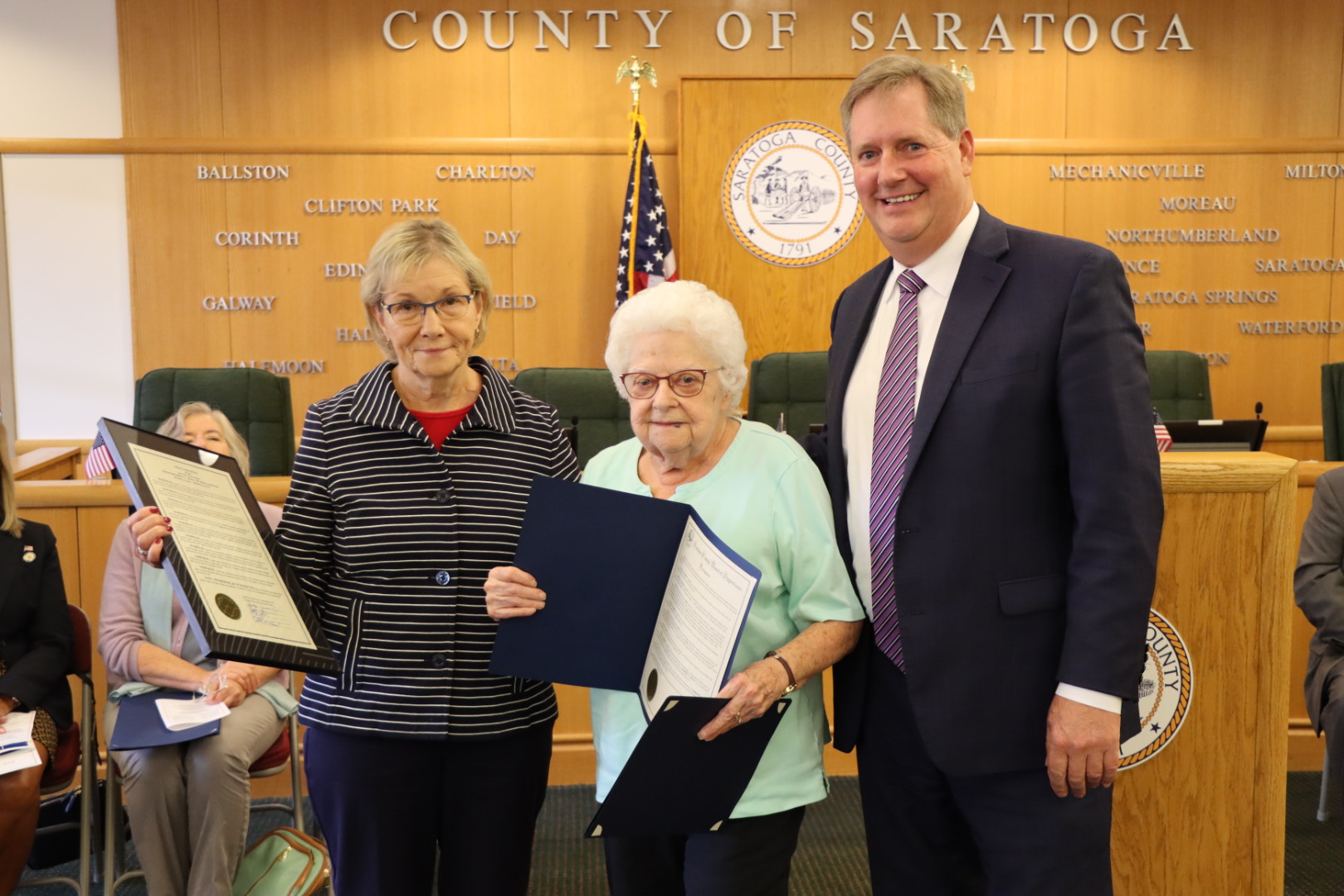 Janie Cornell, Janet Shaw & Chairman Kusnierz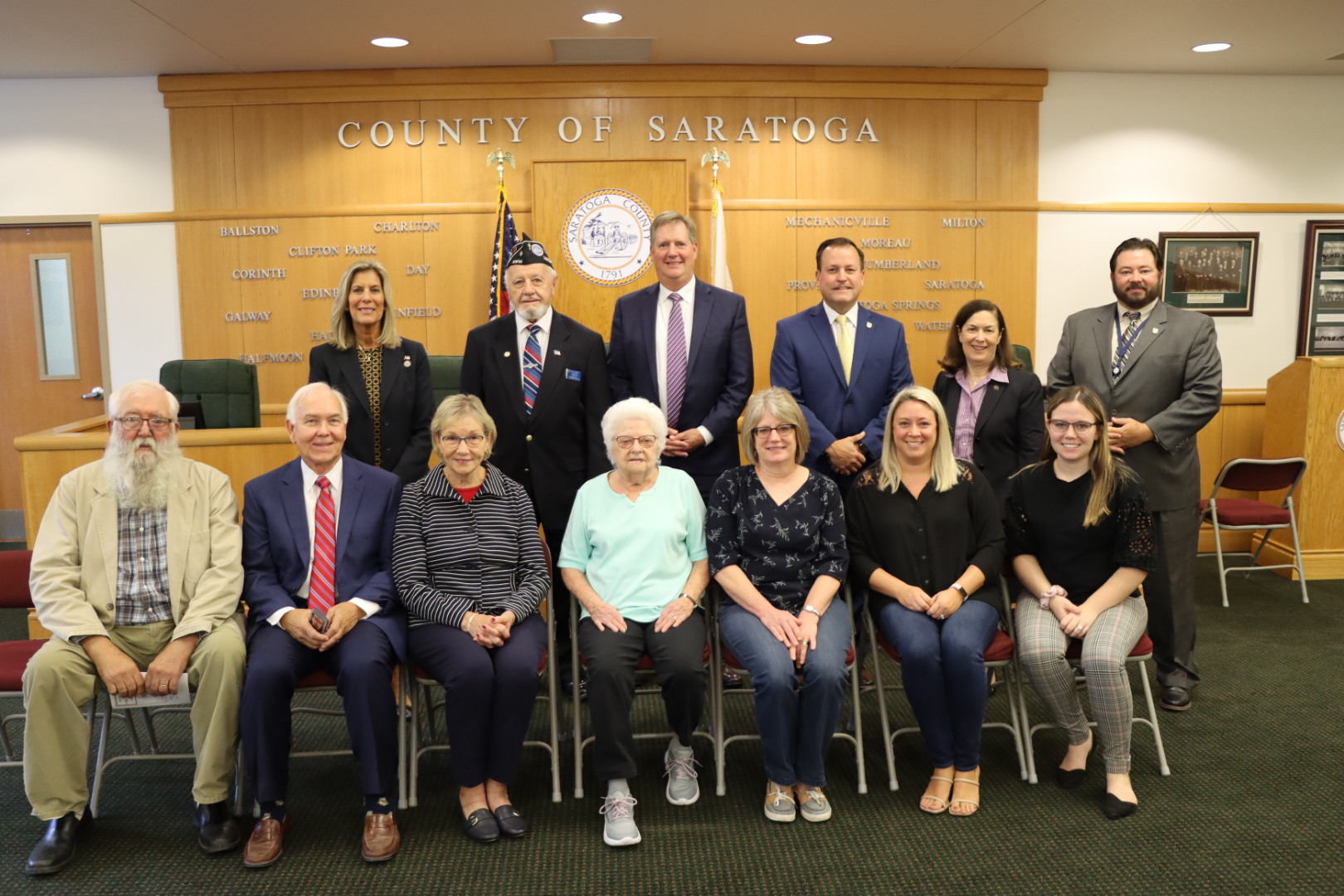 Front row: Friends and Family of Robert C. Shaw
Top row from left: Senator Daphne Jordan, Chaplain Paul O'Keefe, Bd. of Supervisors Chairman and Town of Moreau Supervisor Theodore T. Kusnierz, Jr., County Clerk Craig Hayner, District Attorney Karen Heggen and Veterans Services Agency Director Frank McClement.
*************************************************************
SARATOGA COUNTY ANNOUNCES BIVALENT BOOSTER CLINICS FOR SENIORS
Call Center Open for Seniors age 65+ to make Appointments
BALLSTON SPA – Saratoga County Department of Health (SCDOH) today announced the COVID-19 Bivalent Booster vaccine is available for seniors 65 years of age and older. The County has also opened a convenient call center for seniors to make appointments at SCDOH vaccine clinics in Ballston Spa or at other available clinics throughout the county.
Moderna Bivalent Booster Clinics will be held at the Saratoga County Public Safety Building at 6012 County Farm Road in Ballston Spa on the following dates and times:
09/23/2022, from 8:30am to 10am

09/26/2022, from 1:30pm to 3pm

09/28/2022, from 8:30am to 9:30am

10/04/2022, from 2pm to3:00pm
Pfizer Bivalent Booster Clinics will be held at the Saratoga County Public Safety Building at 6012 County Farm Road in Ballston Spa on the following dates and times:
09/22/2022, from 8:30am to 10am

09/27/2022, from 1:30pm to 3pm

09/30/2022, from 8:30am to 9:30am

10/03/2022, from 2pm to 3pm

10/05/2022, from 8:30am to 9:30am
To make an appointment at an SCDOH clinic or another clinic in Saratoga County, seniors may call (518) 693-1075 Monday through Friday between 8AM and 4:30PM (excluding holidays). Seniors may also visit www.SaratogaCountyNY.gov/COVID to make an appointment at a Saratoga County Department of Health clinic.
The call center opens on Monday, September 19, 2022 at 8AM.
Depending on demand, more appointments may be added to the above times; therefore, seniors are encouraged to check back for additional appointment availability.
For more information about COVID clinics and resources, please visit www.SaratogaCountyNY.gov/COVID.
###
SARATOGA COUNTY CAREER CENTER ANNOUNCES SEPTEMBER 2022 VIRTUAL WORKSHOPS
Free Career Workshops Provided by the Greater Capital Region Career Centers
BALLSTON SPA, NY -- The Saratoga County Career Center in conjunction with the Greater Capital Region Career Centers will hold the following free virtual career workshops in September:
September 1 at 11AM: Transferable Skills. Transferable skills are qualities you have already acquired that can be used in a different job. Learn how to make employers see the connection between your qualities and the skillset needed to do the job and market yourself as the solution to an employer's problem. Facilitated by Warren and Albany.
September 7 at 10AM: Resume Development. This workshop presents the basics of a powerful and effective cover letter including formatting, tailoring to the job, and getting through the online application process to land an interview. Please have a rough draft of your resume with you. Facilitated by Rensselaer & Columbia-Greene.
September 13 at 10:30AM: Interview Preparation. Learn how to articulate your strengths, what questions to expect, how to address difficult topics, and ace the interviewing process. Facilitated by Schenectady.
September 14 at 10AM: Goal Setting. This workshop explores how goal setting works, why goals are important, and provides helpful resources to get you started to reach your dreams. Facilitated by Washington and Albany.
September 15 at 11AM: Completing Job Applications. Statistics show approximately 50% of mid-sized companies and almost all large corporations use an applicant tracking system to screen candidates for job opportunities. Learn how to prepare your online application to get the most visibility from hiring managers. Facilitated by Warren and Washington.
September 22 at 1:30PM: Social Media. Your social media presence can make or break your ability to find a job. Learn how to use social media to your advantage in searching for a job and marketing yourself to land the job or career you've always wanted. Facilitated by Schenectady.
September 27 at 11AM: Overcoming Barriers. Join an informal discussion about how to overcome potential stumbling blocks to finding a job. Whether you're facing transportation needs, childcare needs, prior justice system involvement, inexperience, health concerns or more, this workshop will provide you with resources and strategies to help you meet your goals. Facilitated by Saratoga and Fulton-Montgomery-Schoharie.
Registration is required for all workshops. Visit https://thejoblink.org/calendar/ to register or call the Saratoga County Career Center at (518) 884-4170 for more information. The workshops are offered as part of the Saratoga County Career Center's WorkPays! workforce education campaign.
The Saratoga County Employment and Training Office provides comprehensive training and employment services to local residents through its Career Center and works with local businesses to attract and retain the local workforce.
The Greater Capital Region Career Centers is a group of local county and city-based Career Centers and partners that coordinate services to address the workforce needs of the Greater Capital Region by providing a variety of career and workforce resources, training opportunities, and more. Members include Capital Region Workforce New York; Columbia-Green Workforce NY; City of Albany Career Center; L.E.A.P; Rensselaer County Career Center; Saratoga County Career Center; Schenectady County Connects; Warren County Career Center; Workforce Solutions System of Fulton, Montgomery, Schoharie Counties.
###
SARATOGA COUNTY RANKS IN TOP TWO PERCENT IN NATIONAL SURVEY OF 500 HEALTHIEST COMMUNITIES IN AMERICA
Saratoga County Leads the State in Overall Score, Placing 60th On the US News & World Report's Healthiest Communities 2022 Rankings
Ballston Spa, NY – Saratoga County ranked in the top two-percent nationally in the 2022 US News and World Report's Community Health Rankings, which analyzes the top 500 healthiest communities across the United States in 10 categories that drive community health. Saratoga County placed 60th with a score of 79 (out of 100) on the overall rankings, beating the state median score of 57 and the US median score of 47. The report analyzes communities' population health, equity, education, economy, housing, food and nutrition, environment, public safety, community vitality, and infrastructure.
Saratoga County Board of Supervisors Chairman and Town of Moreau Supervisor, Theodore T. Kusnierz, Jr. said, "The 2022 Healthiest Communities Report establishing Saratoga County as the healthiest county in New York State underscores what we in local government, our economic development partners, and local business leaders have known for a long time- Saratoga County is a great place to live, work and raise a family. We've set the conditions for a robust economy and a healthful quality of life across Saratoga County through thoughtful planning, conservative budgeting practices, and limiting bureaucratic red-tape that leads to over-regulation. The proof is in our results- a safe and welcoming community for all in a county that also boasts the lowest property and sales taxes in New York State."
Overview of Saratoga County's Scores by Category (score is out of 100):
Education: 80

Public Safety: 78

Economy: 77

Population Health: 77

Infrastructure: 76

Food & Nutrition: 72

Equity: 71

Environment: 67

Housing: 64

Community Vitality: 53
Education:
Saratoga County beats the national average in strength of its community education system with a higher high school graduation rate (90.8% compared to 89.3%, nationally) and 53.6% of residents with an advanced degree (30.6% nationally).
Public Safety:
Saratoga County's per capita spending on health and emergency services outpaces the nation with the county at $441 and the national median at $358 and the violent crime rate in Saratoga County is half that of the national average at 102.6 compared with 204.5 per 100,000.
Economy:
Saratoga County's poverty rate of 5.9% is well below the national average of 13.6%; its median household income is $84,971 (compared to $58,759 nationally); and its business growth rate stands at 8.2% compared to the national rate of 7.7%.
"This recognition is both an honor and testament to what our businesses across industry sectors rely upon," said Dennis Brobston, president of Saratoga Economic Development Corp. (SEDC). "This data proves to our target industries that if you need to be in the Northeast United States, you'll join a dynamic and diverse, thriving economic eco-system that is also a wonderful place to call home."
"Saratoga County, NY continues to grow upon our Global Hub of talent, innovation, and opportunity. The combined efforts of county leadership, partner organizations and continued development investment positions us to support existing industry and encourage continuous investment; while also attracting targeted, complementary businesses," Brobston continued. "For all the reasons outlined, we are incredibly proud of the work that has been put forth to not only create, but maintain this standard of quality of living that has been designed and nurtured to what we all know and enjoy in our everyday lives."
"We are pleased that U.S. News & World Report has ranked Saratoga County, home of our GlobalFoundries headquarters in Malta, New York, as one of the 2022 Healthiest Communities nationwide and the highest ranked County in the State, based on their measure of health-related outcomes of society," said Peter Benyon, GlobalFoundries General Manager Fab 8. "Many positive factors including education, population health, local economy, the environment, public safety and more are what our employees enjoy here and help us to retain and attract new workforce talent to this area. Come join us in one of the healthiest communities in the nation!"
"When I moved to Saratoga Springs from New York City six years ago, I had no idea of the depth and breadth of cultural offerings that the city boasted. But now, as the head of Saratoga Performing Arts Center, which brings an estimated 100 million dollars into our local economy, I appreciate first-hand how special Saratoga is. And it is no surprise that it is the highest ranked county in NY State for its unparalleled quality of life," said Elizabeth Sobol, President & CEO of Saratoga Performing Arts Center. "One sign of a healthy community is the presence of the arts. Saratoga has long been a place of inspiration where people can connect with each other and become immersed in incomparable arts and cultural experiences. A vibrant cultural landscape serves as a beacon for investment, a beacon for relocation, and a beacon for tourism. We are proud to live and work in a community that respects and elevates the arts."
According to the US News Healthiest Communities Rankings 2022 report, the "rankings measure crucial health-related components of society with the aim of empowering citizens, health care leaders and officials to make decisions about policies and practices that can improve health outcomes for all. Guided by a pioneering framework developed by a committee appointed to advise the U.S. Department of Health and Human Services, the project scores nearly 3,000 counties on 89 indicators across 10 categories that drive overall community health. Population health and equity are the most heavily weighted categories, based on the assessments of more than a dozen leading experts on what matters most to a community's health."
To view the full report, please visit the US News & World Report Community Health Rankings 2022.
###
SARATOGA COUNTY HONOR DECEASED VETERANS CEREMONY RECOGNIZES MECHANICVILLE VET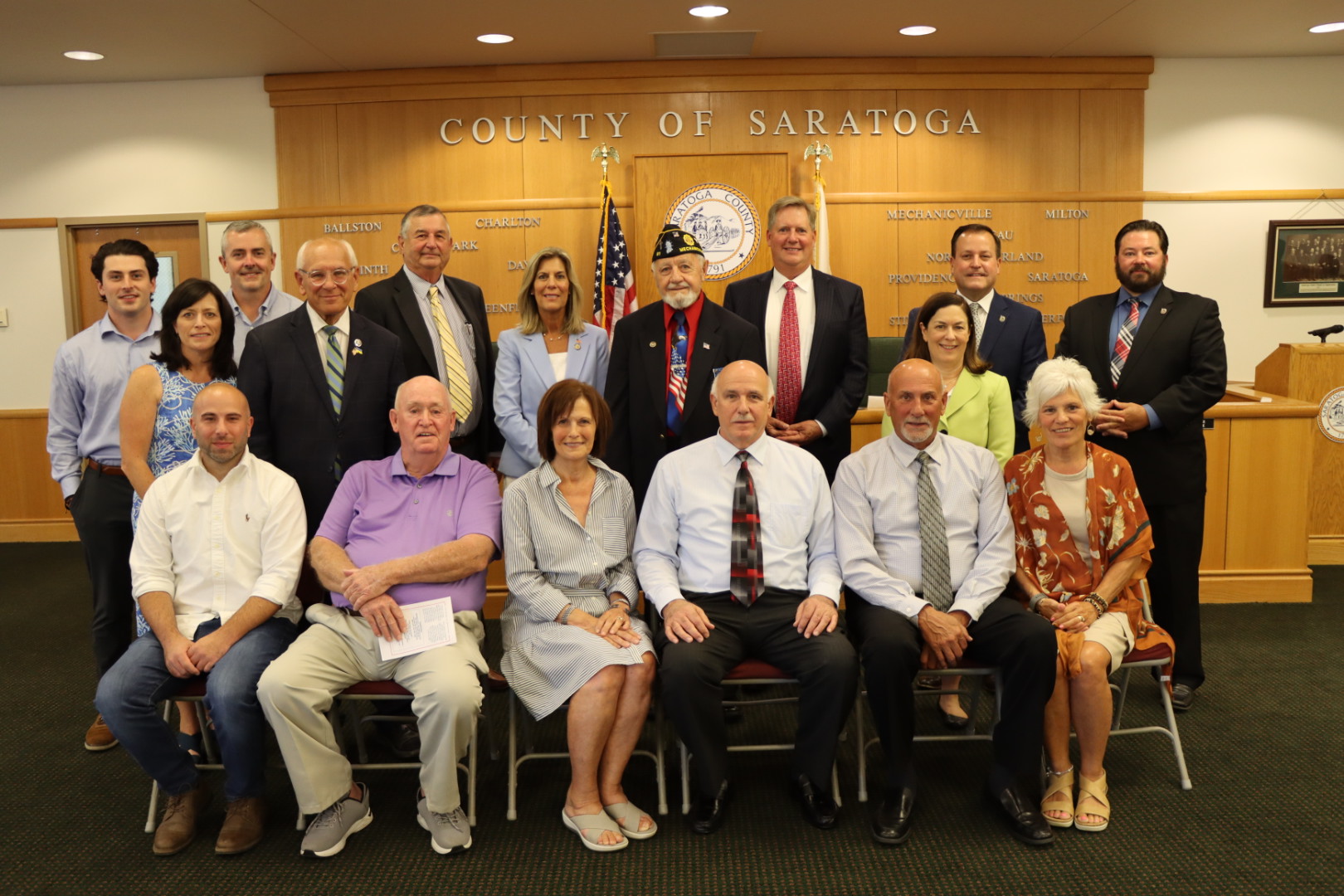 BALLSTON SPA, NY – The Saratoga County Board of Supervisors and the Saratoga County Veterans Service Agency held its monthly Honor Deceased Veterans Program on Tuesday, August 16, 2022, at the County Building in Ballston Spa with a ceremony honoring Christopher R. Sgambati of Mechanicville.
Chris was drafted into the US Navy in August of 1943. For most of Chris' time overseas, he was a Fire Controlman aboard the USS LST 614 in the Pacific Theater. He participated in several battles that took place on the islands in the South Pacific and was an eyewitness to one of the most well-known photos taken of the war – that of General Douglas MacArthur as he waded ashore in the Philippines ("I Shall Return!"). Chris was present onboard the LST 614, which is in the photo just behind General MacArthur. He was awarded the American Theater Medal, the Asiatic Pacific Theater Medal with three Campaign stars, the Philippine Liberation Ribbon with two Campaign stars, and the WWII Victory medal. He was honorably discharged from the US Navy in April 1946.
Chris was born on May 31, 1925 in Mechanicville, NY to the late Stefano and Emilia Sgambati. He attended Mechanicville High School, where he met his wife, Lucy. They were married in 1948 and together they had 3 children, Christina, Patrick, and David.
Chris was a lifetime member of the American Legion, The VFW, and he was the founding member of the Italian American Veterans Post #21 where he continued to serve Post Commander until his passing in 2019.
Chris also participated in many City and County services honoring veterans including, the Saratoga County Honor a Deceased Veteran Ceremonies, where he led all those present in singing Amazing Grace and God Bless America.
Chris was inducted into the 43rd NYS Senate Districts Veterans Hall of Fame in 2015.
Chris was especially proud of his election to the Saratoga County Board of Supervisors where he represented the City of Mechanicville for 30 years.
Chris was also very active in his hometown community of Mechanicville. He was a member of the Board of Commissioners of the Mechanicville Housing Authority for over 30 years, with 10 years as Chair. He was a volunteer timekeeper for the Mechanicville High School boys' basketball team for 65 years. Chris was inducted as a Community Contributor to the Mechanicville High School Athletic Hall of Fame. He was a member of the Church of Assumption Choir.
Chris also worked for the Boston and Maine Railroad Company for 15 years, followed by employment with Prudential Insurance Company as an agent, retiring after 29 years of service. Chris passed away on November 16, 2019.
Established in 1999 by the Saratoga County Board of Supervisors, the Honor Deceased Veterans Program provides a way for county leadership and residents to show gratitude for the service of veterans past and present. The program honors a range of veterans with tremendous stories of service, sacrifice, and historical significance. Honorees include those who gave the ultimate sacrifice in the name of defending our great country and veterans whose stories continued past their military service.
The ceremony is dedicated to a different Saratoga County veteran each month. Board members rotate throughout the year in selecting a veteran to memorialize, providing for veterans from all over the county to be honored. To date, more than 300 Saratoga County Veterans have been honored.
The public is encouraged to show their support of our veterans at the Honor Deceased Veterans Ceremony each month.
For more information about the Honor Deceased Veterans Ceremony, please contact Saratoga County Veterans Service Agency at (518) 884-4115.
###
SARATOGA COUNTY SEEKS VOLUNTEERS FOR SENIOR MEAL DELIVERY IN SOUTH GLENS FALLS & WILTON
BALLSTON SPA, NY -- The Saratoga County Department of Aging and Youth Services is seeking volunteers to deliver meals to homebound seniors in the South Glens Falls and Wilton areas.
This important program helps many seniors, age 60 and older, remain independent in their homes by providing them with a nutritious ready-to-eat lunch each weekday.

Meals are picked up at 11AM and delivered until 1PM. Volunteers' schedules are flexible to meet their availability. Training and orientation are provided to all volunteers.

To become a volunteer, individuals must submit paperwork, including references, to the Saratoga County Department of Aging and Youth Services. Volunteers must have a valid driver license and their own vehicle.

Being a volunteer for this program is a gratifying experience as seniors look forward to seeing a friendly face with their meals.
Those interested in becoming a volunteer may call the Saratoga County Department of Aging and Youth Services at 518-884-4100 for more information.
COVID-19 COMMUNITY MITIGATION TOOLKIT
Vaccination
COVID-19 vaccines available in the U.S. are effective at protecting people from serious illness, hospitalization, and death, especially for those who are boosted. As with vaccines for other diseases, individuals are protected best when they are up to date. CDC recommends that everyone ages 5 years and older get their primary series of COVID-19 vaccine, and everyone ages 12 years and older also receive a booster. Individuals can find a COVID-19 vaccination provider near them by visiting www.vaccines.gov or by calling 800-232-0233. Saratoga County Public Health Services routinely holds vaccination clinics. The dates, times, and locations of which are available at www.saratogacountyny.gov/covid/ or by calling 518-584-7460 during business hours.
Masking
Wearing a mask can help to protect both the wearer and those around them from COVID-19. Individuals who choose to wear a mask should wear the most protective mask that fits well and that they will wear consistently. Many pharmacies have partnered with the federal government to distribute a specific type of mask, called a N95, at no-cost. Individuals can locate a participating pharmacy by visiting the CDC website at https://www.cdc.gov/coronavirus/2019-ncov/your-health/free-masks.html or by calling 800-232-0233. It is important to note that before going to a participating pharmacy, individuals should check directly with them for current inventory and availability.
Testing
Testing for the virus that causes COVID-19 disease can help prevent spread to others and can help link an infected individual to treatment. Individuals who have COVID-19 symptoms, who have had known or suspected close contact to COVID-19, or who are planning to or returning from travel should be tested. Individuals can locate a COVID-19 testing provider near them by visiting coronavirus.health.ny.gov/find-test-site-near-you or by calling 888-364-3065. Additionally, every home in the U.S. is eligible to order two sets of four free at-⁠home tests. Individuals can obtain these free at-home tests at www.covid.gov/tests or by calling 800-232-0233.
Treatment
The Food and Drug Administration (FDA) allows healthcare providers to use products to treat patients with COVID-19, including those who are not hospitalized, and the National Institutes of Health (NIH) provides recommendations about these treatments and describes what is known about their effectiveness. Treatments work best when they are started as soon as possible after the onset of illness, so it is important for individuals to get tested and talk to their doctor right away.
Oral antiviral medications that target specific parts of the virus can help reduce its multiplication and spread through the patient's body. People 12 years or older who test positive and are symptomatic can receive oral antiviral medicine within 5 days of having symptoms.

Monoclonal antibody treatments, given intravenously (IV), can help the immune system recognize and respond more effectively to the virus. People 12 years or older who test positive and are symptomatic can receive monoclonal antibody treatment within 7 days of having symptoms.
There are several pharmacies within Saratoga County that can dispense oral antiviral medications with a prescription from a healthcare provider. Individuals can locate a participating pharmacy by visiting covid-19-test-to-treat-locator-dhhs.hub.arcgis.com. Similarly, individuals can find a Saratoga County health care facility that administers monoclonal antibody treatment by visiting covid-19-therapeutics-locator-dhhs.hub.arcgis.com.
Other COVID-19 Preventive Measures
In addition to staying up to date with vaccination, masking, testing and treatment, individuals can take other measures to help protect themselves from COVID-19 and other respiratory illnesses, including:
• Avoiding poorly ventilated spaces and crowds
• Washing hands often
• Covering coughs and sneezes
• Regularly cleaning and disinfecting high touch surfaces
• Monitoring their health daily and staying home when sick
The full Public Health Advisory is posted at www.saratogacountyny.gov/COVID, click on "COVID Response Information."
### /span>
***************************************
CORNELL COOPERATIVE EXTENSION
The Saratoga County CCE Newsletter is released every two weeks.
**********************************************
MOREAU LAKE STATE PARK
Click here for events & activities listed on Moreau Lake State Park Website

September Events Calendar Details


**********************************************
MOREAU COMMUNITY CENTER

**********************************************
**********************************************
NYSDOT PROJECT AT EXIT 17
New Traffic Patterns on Northway Exit 17 Off-Ramps in Moreau, Saratoga County
Route 9 Bridge over I-87 (Northway)
Public Informational Brochure
MORE INFORMATION FROM NYSDOT
**********************************************

SARATOGA COUNTY ANNOUNCES $2 MILLION NON-PROFIT COVID RELIEF GRANT FUND
Click HERE for more information.
**********************************************
The county will work with EMS providers in Saratoga County to offer in-home vaccinations and boosters for the homebound. Homebound individuals or others with barriers to vaccination can also contact SCPHS at www.saratogacountyny.gov/covid.




*******************************************

Emergency Connectivity Fund
"For eligible schools and libraries, the ECF Program will cover reasonable costs of laptop and tablet computers; Wi-Fi hotspots; modems; routers; and broadband connectivity purchases for off-campus use by students, school staff, and library patrons."

(FCC.gov)
For more information click

HERE.
*************************************

GLOBAL FOUNDRIES HEADQUARTERS ANNOUNCEMENT FOUND HERE
GlobalFoundries announces they will move headquarters from California to Malta

!

***********************************************

South High Marathon Dance

WWW.SHMD.ORG

***********************************************

ADK/GFTC TRAFFIC STUDY
by CREIGHTON MANNING
AUGUST 2020
CLICK HERE TO VIEW REPORT

**********************************************

*********************************************
*********************************************
**IN THE NEWS **
Supervisor Kusnierz & Congressman Tonko's Sewer Pump Station Visit - ARPA Infrastructure Funds

Saratoga County presents $50k check to Saratoga County Fair

Saratoga County unveils brand for 25oth anniversary of the Revolutionary commemoration.

Moreau Sewer Extension Ahead of Schedule

Improvements Planned for Grant Cottage Site

South High Marathon Dance 2021

Stewart's Grand Opening

Look TV Interviews Town Supervisor, Todd Kusnierz

Property owner: Development heating up along Route 9 in Moreau
Gifford appointed new South Glens Falls police chief
Marathon dance in South Glens Falls rescheduled in 2021